Author: PACKQUEEN Date Posted:26 August 2019
Lovely to look at, even lovelier to eat – that's cupcakes for you. For some of us, they're somewhat considered comfort food. For those who are busier than average, it's grab-and-go sustenance. For those of us who may have had a harried workday or workweek, they're considered rewards!
Cupcakes come in two forms: plain and decorated. Whatever form they come in, we love them anyway! These small, often beautifully-decorated baked treats are often presented in clever and fun boxes as well to further enhance their appeal.
Here are some of the cupcakes box designs we're loving:
Starting off with the regulars: CUPCAKE BOXES!
1. Solo boxes
If you've been having a not-so-great day or maybe you had a really great day and you want to give yourself a treat, a solo cupcake will do. Solo cupcake boxes with inserts to keep the baked goody inside from getting knocked about are awesome. When you're ready to enjoy your reward, you'll be pleased to see that none of the cupcake's pretty topping or icing is ruined.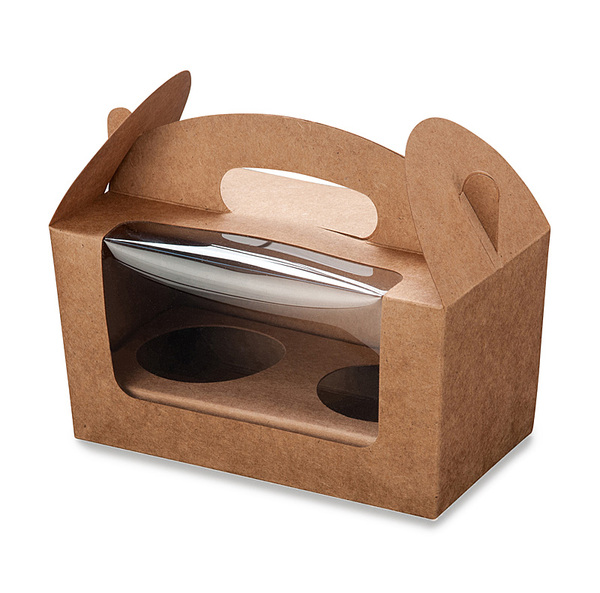 Sometimes one just ain't enough. We feel you. Maybe you've had an extra punishing workweek and one cupcake is not enough to comfort you. Or maybe you want to share the yummy goodness with a friend. That's why we're tickled pleased that there are boxes that can carry two cupcakes! These boxes have inserts that make sure the yummy treats they hold do not get ruined.
3. Paperboard/cardstock boxes
There are a few things more exciting than opening a parcel – even when you already know the goodness waiting inside. These boxes are sturdy enough to steadily hold cupcakes but they're also easy to hold and open while keeping the yummy surprises safe.
4. Carry boxes with windows
The best motivation is when you know there's something good waiting for you to enjoy at the end of the road. Carry boxes with windows are the perfect way to showcase the delicious baked goodies they contain. They're also perfect as gift boxes if you're heading off to see loved ones.
Whether it's a box for one, two or more cupcakes, a custom-printed box adds more character to the parcel itself. Even if the print is a company logo or address or maybe a little personalised dedication, a custom-printed box makes a delectable treat all the more savoury.
Now, we move on to more creative, imaginative, and in some cases quirky cupcake boxes:
6. Hat boxes
The perfect presentation of everyone's favourite baked goody especially for events and special occasions. Hat boxes are especially shaped and built for carrying delicate accessories that may be sizeable so you have more room to work with and a sturdier container.
7. Infinity Window Boxes
These boxes have the perfect shape and height for intricately-decorated cupcakes. They're big enough to accommodate a cupcake but not too roomy so it can be knocked about inside. They're also tall enough so icings, toppings and sprinkles are untouched. These boxes also have windows on the front, allowing the recipient a peek at the delicacy waiting inside.
8. Party box with window
Usually used as carry boxes to contain party favours, these boxes can also be used to carry solo cupcakes thanks to their boxy assembly, allowing for a cupcake to sit in the middle comfortably. It's also has a bit of a height so toppings and icings can survive handling unscathed.
9. Retail window bag
Not quite a box, we know, but an extremely interesting and creative way to package a cupcake nonetheless. These bags are created with durable craft paper so you can be sure your cupcake remains unharmed while being carried anywhere. The bags are also freestanding and come complete with a tin tie at the top, making it possible for the bags to be resealed.
10. Noodle boxes
Last and definitely not the least, noodle boxes are made to carry food. Noodle boxes are specially lined as well to make sure their contents stay fresh and delectable. Some people find noodle boxes fun and appealing thanks to their sturdy but delicate handles.
All of these boxes and bags are available through PACKQUEEN. We have a wide array of other boxes and bags you can choose from as well. Our products are all durable and wholesale pricing is available should you need more than a handful. If you're interested, reach out to our team today!
Let Us Know What You Thought about this Post